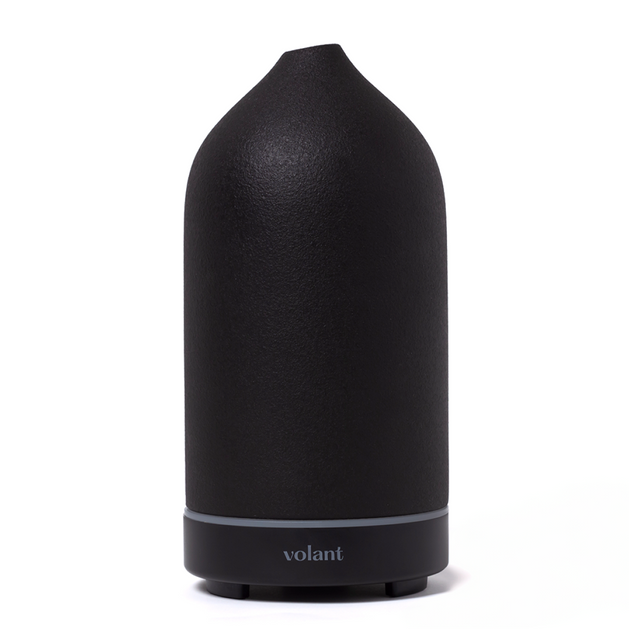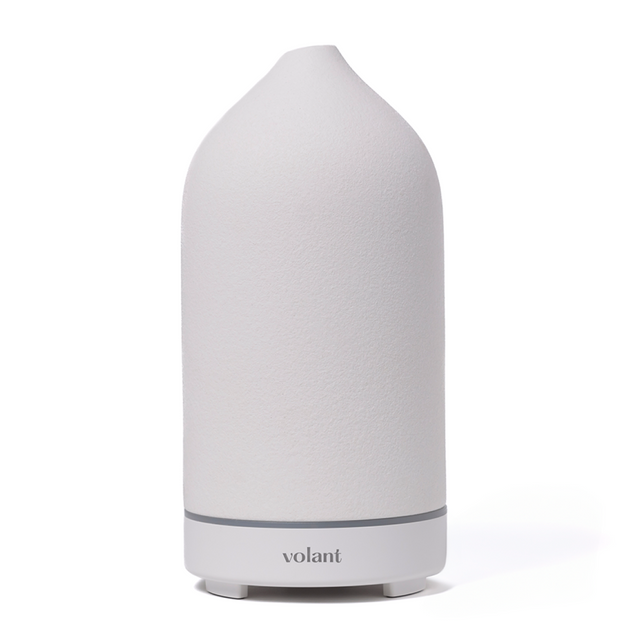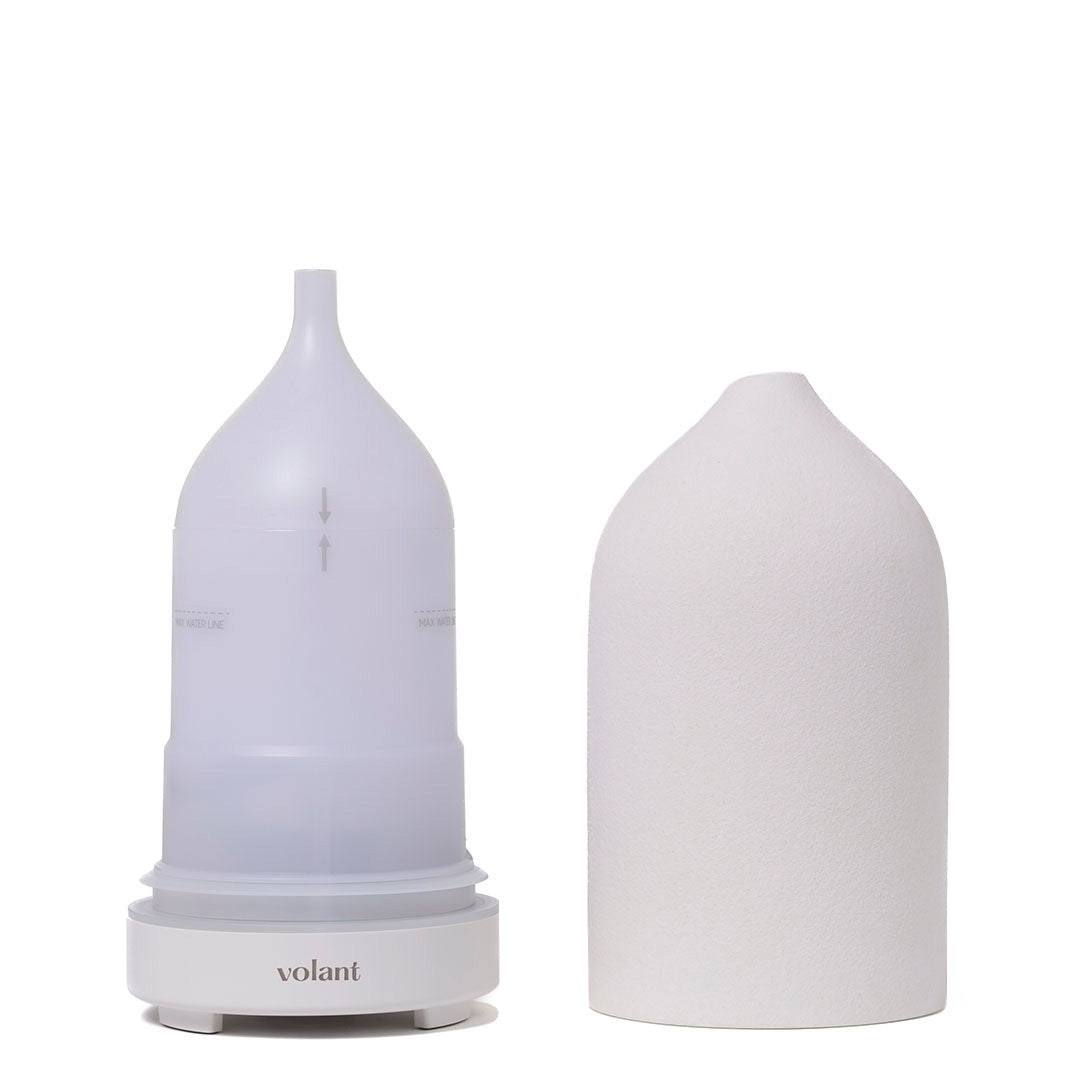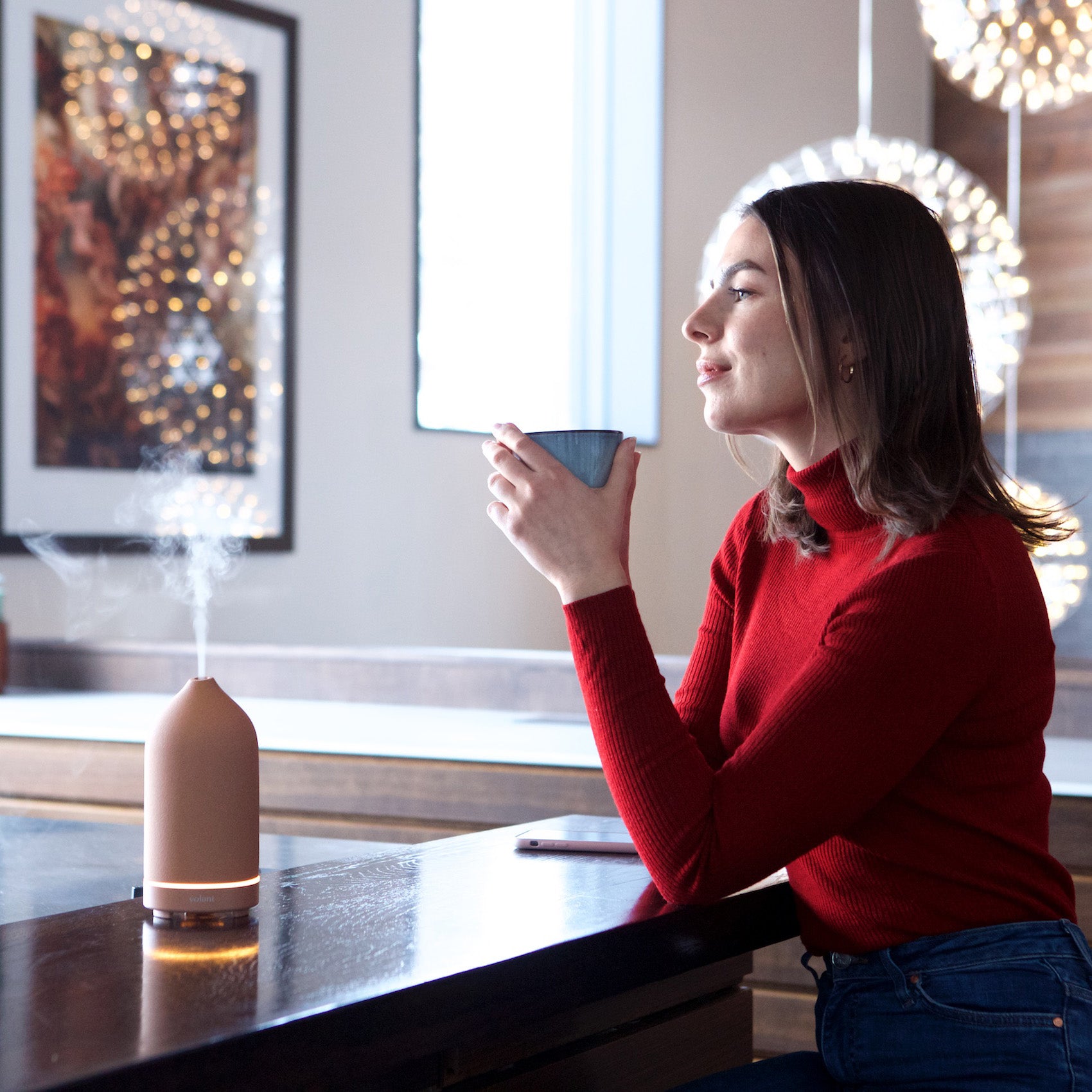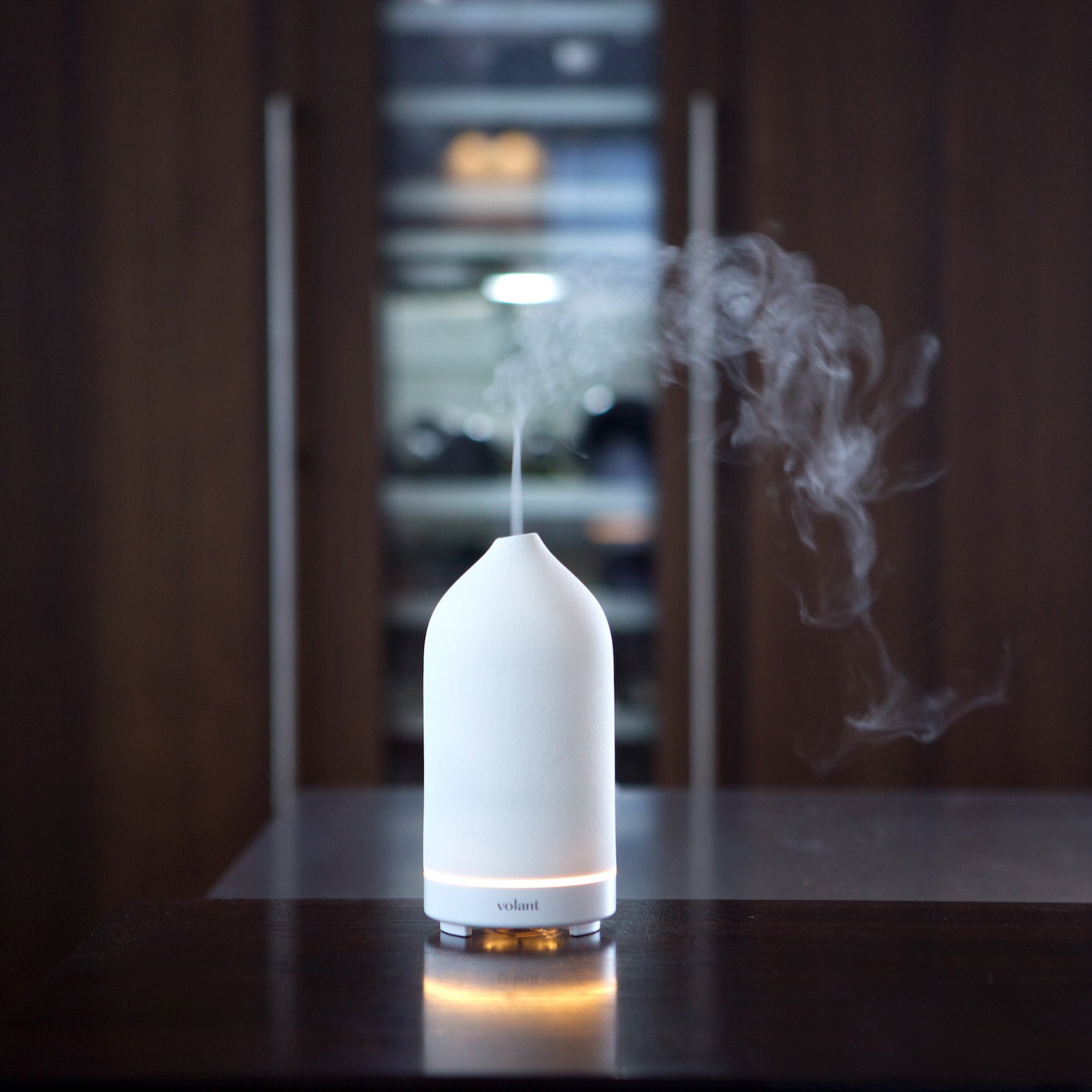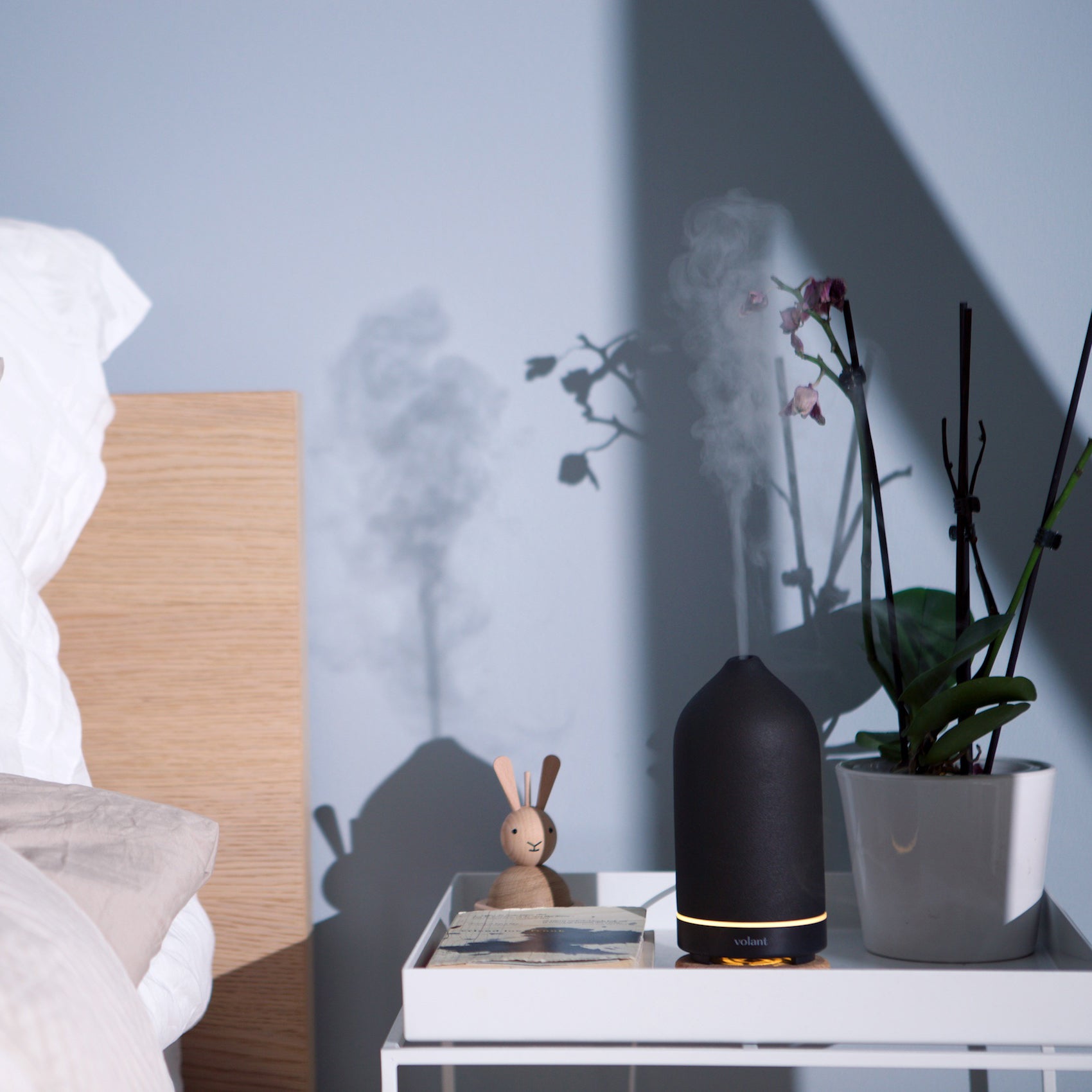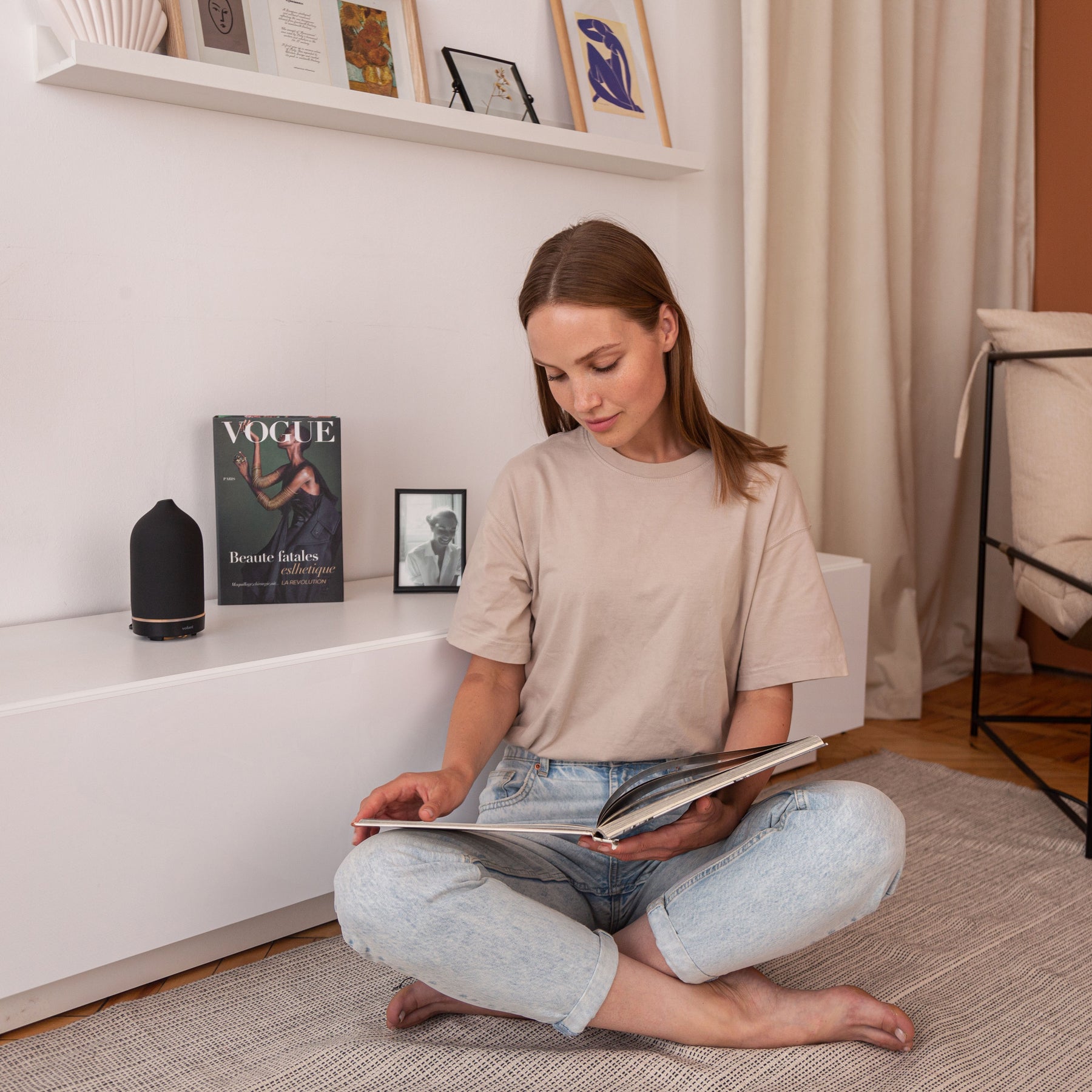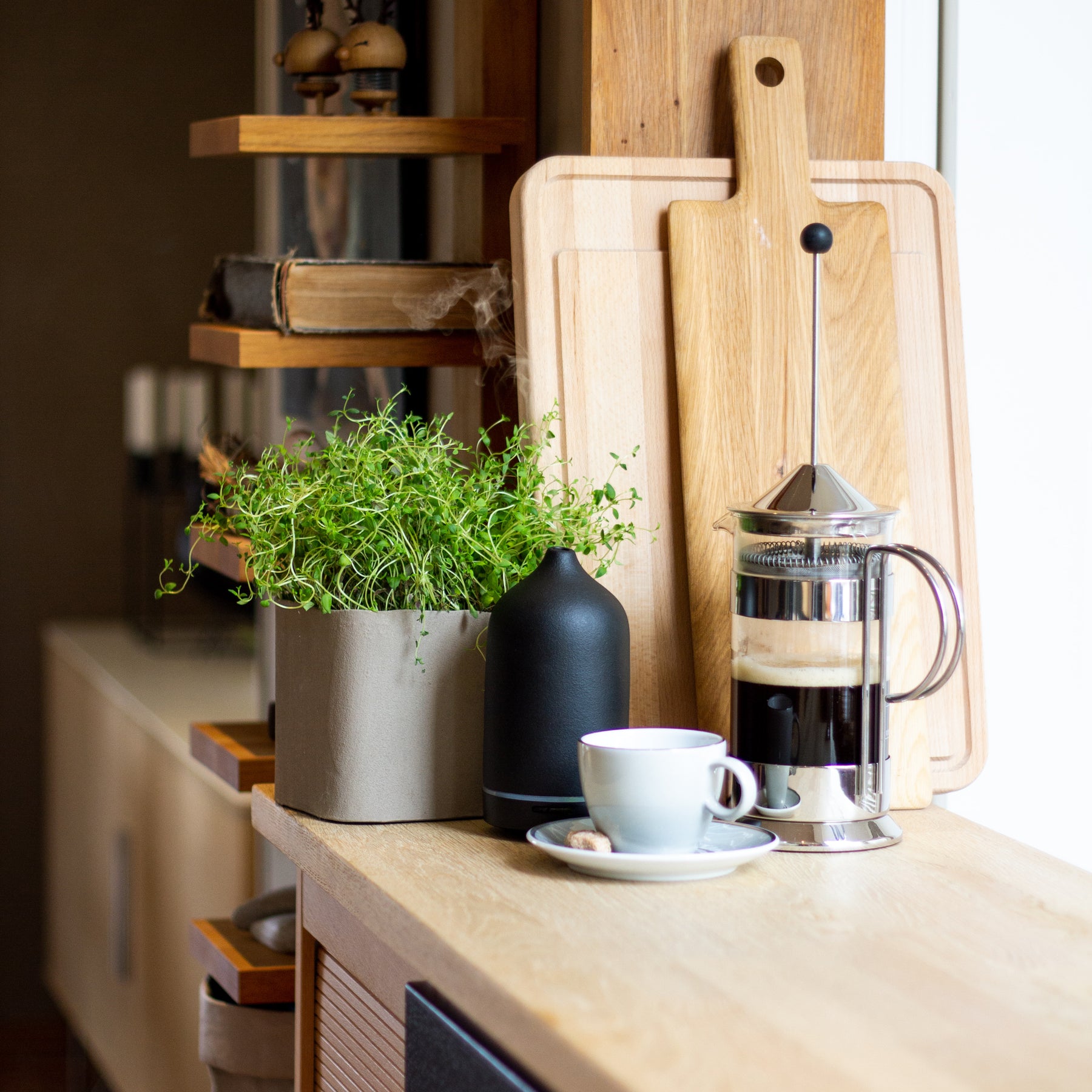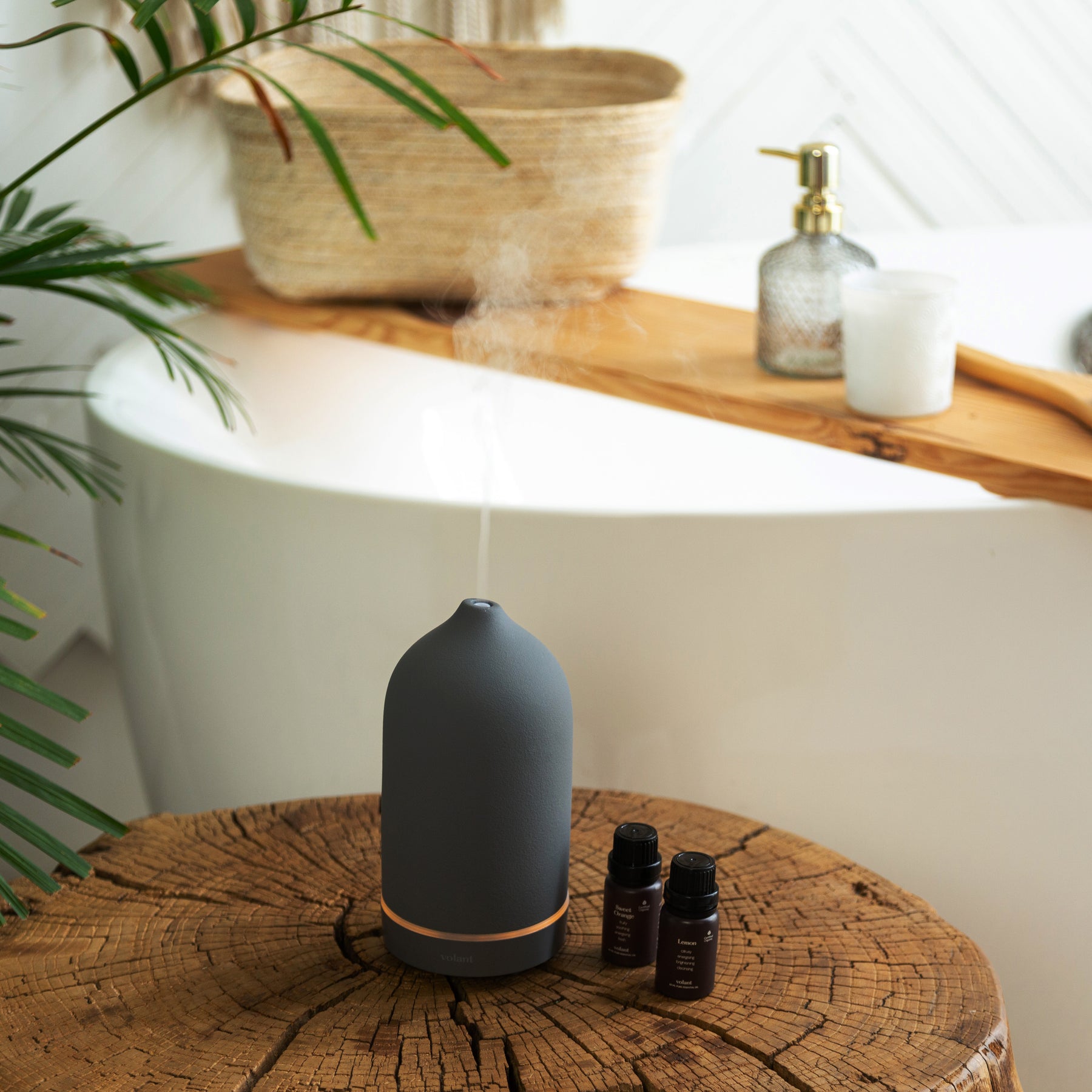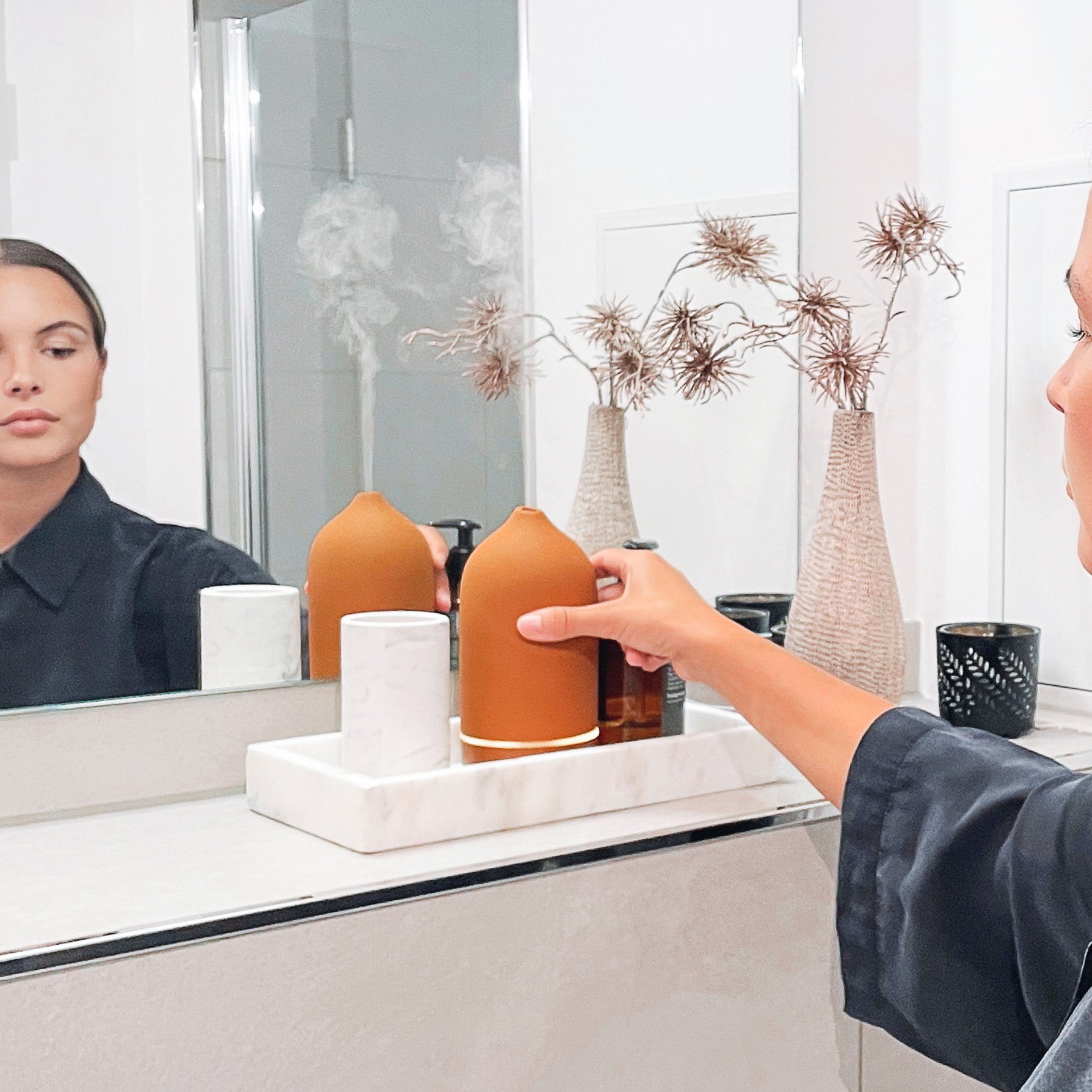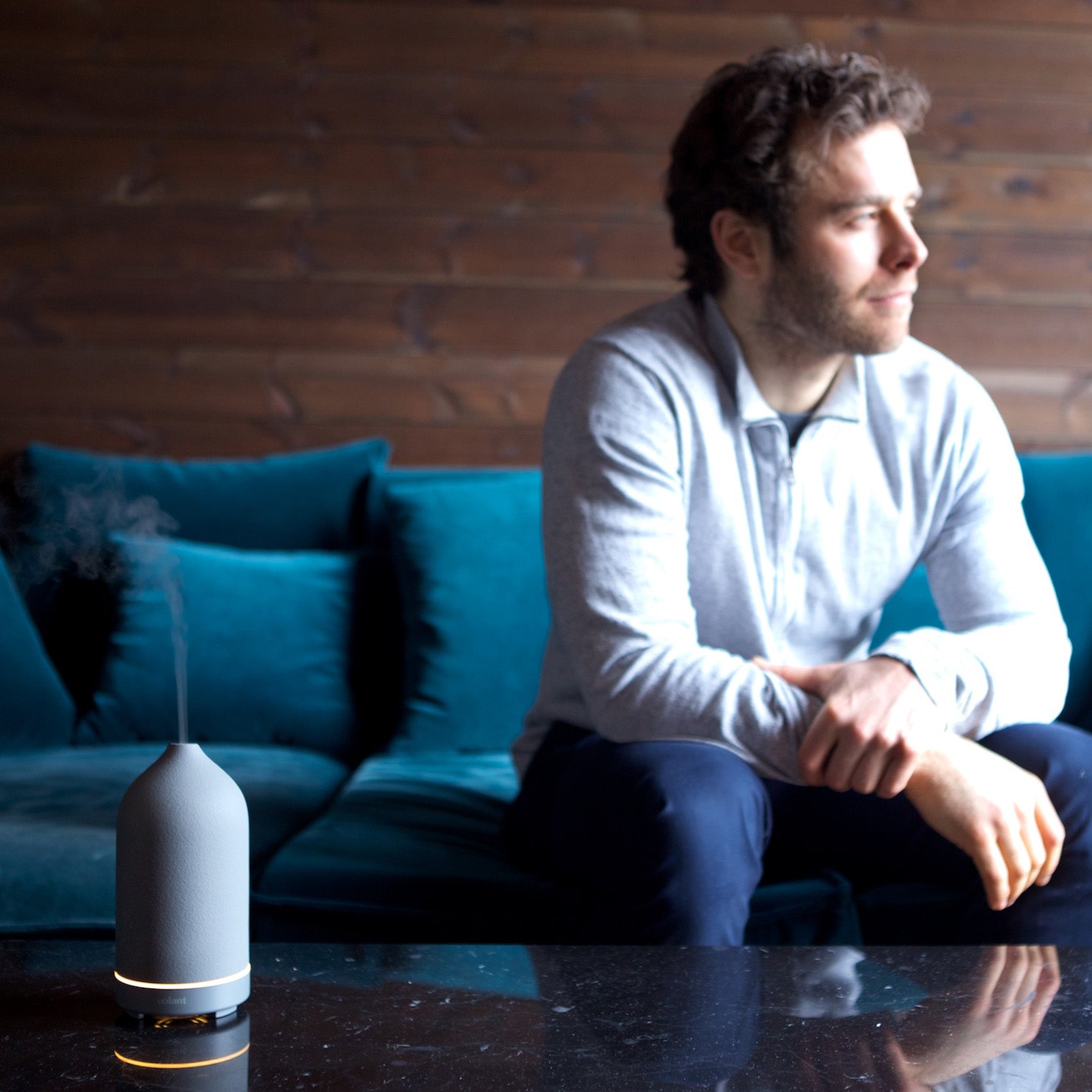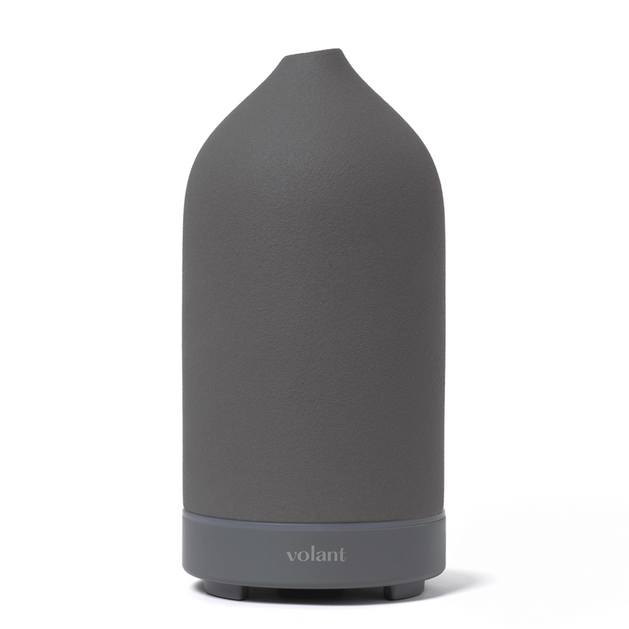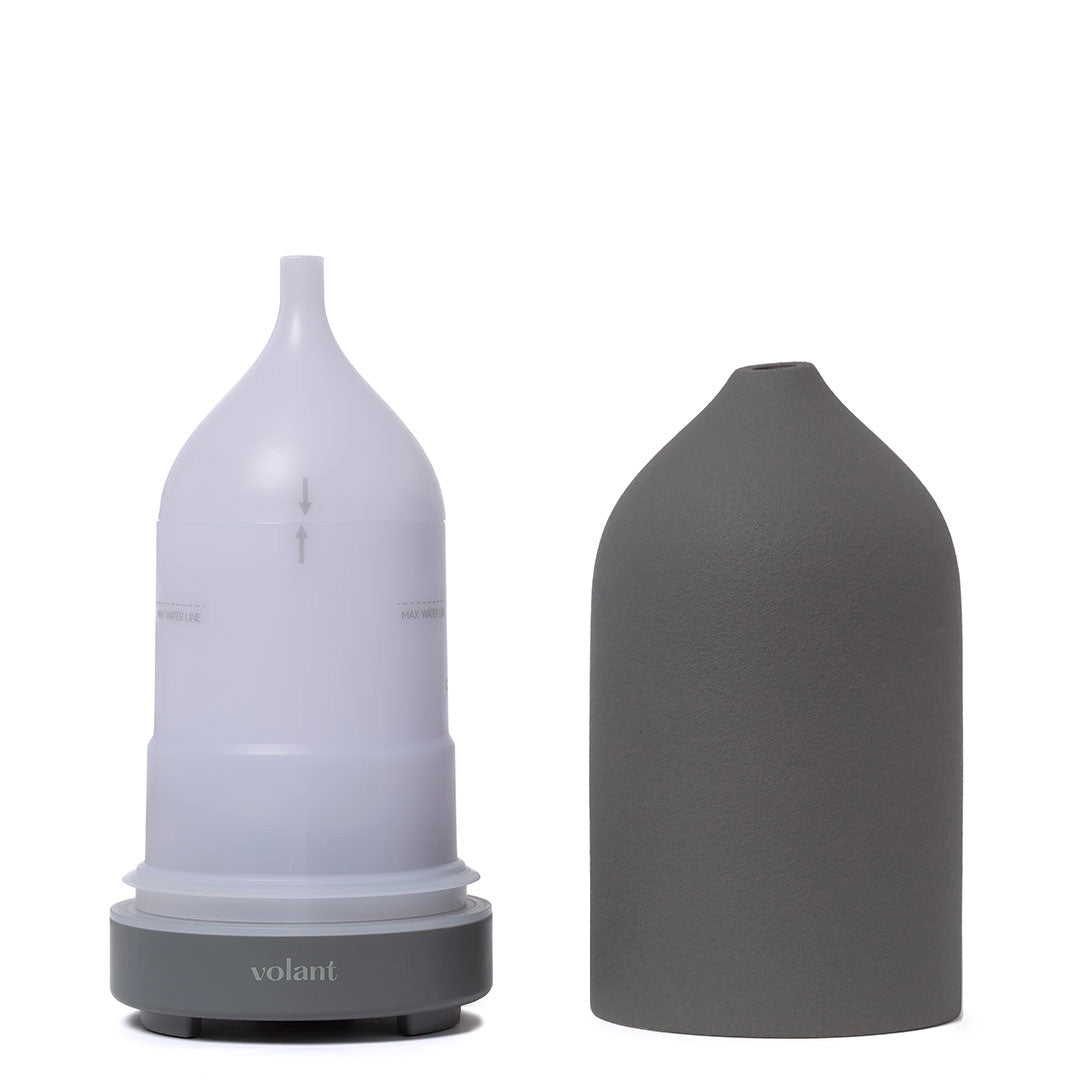 Volant Diffuser
The modern minimalist
Our handmade stone diffuser is simple yet elegant and upgrades the interior of any room. It gives more clarity and lightness to your home with its minimalist matt white ceramic. Spread pure essential oils to find new strengths and enhance your wellness with the Volant Diffuser.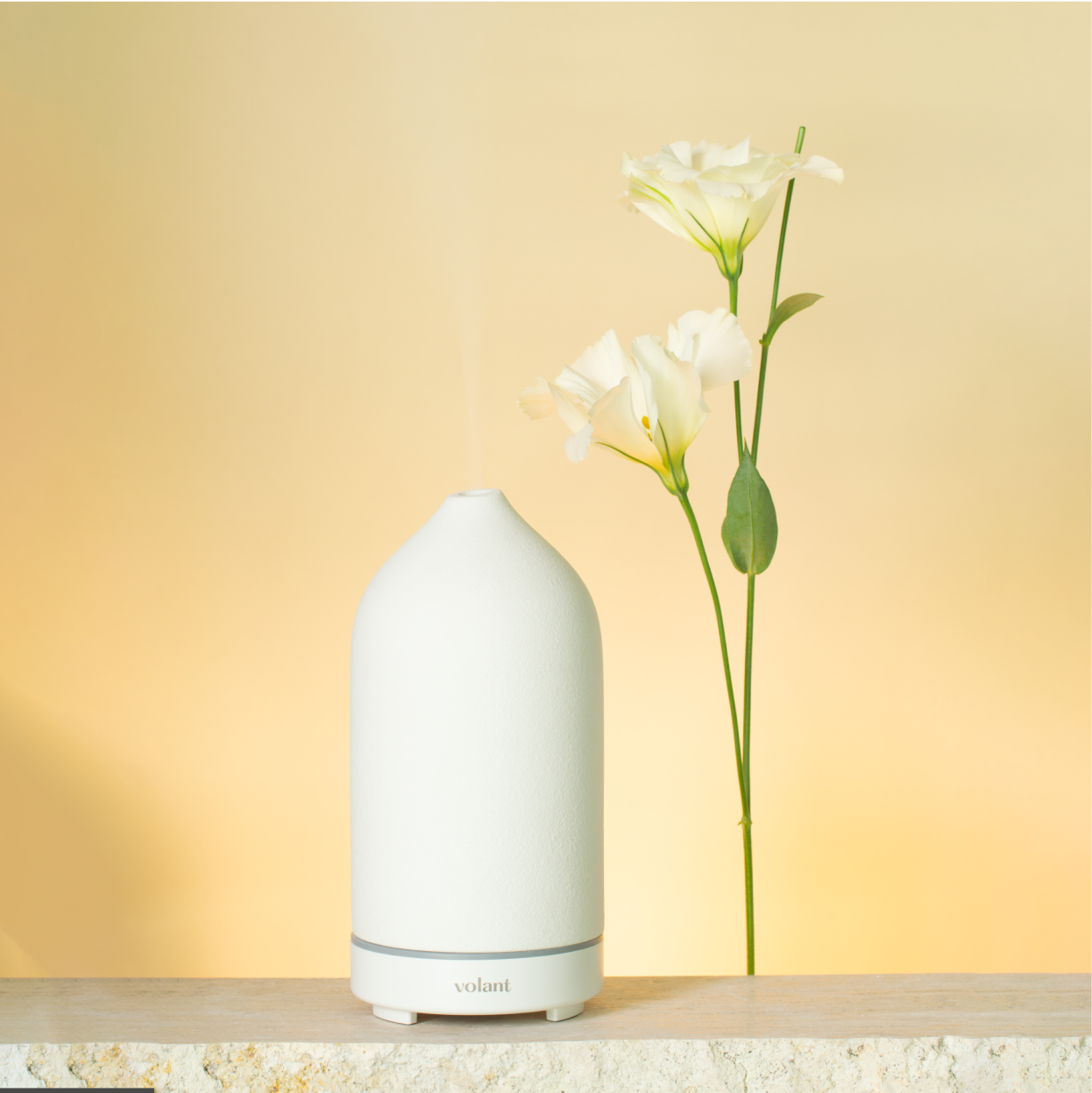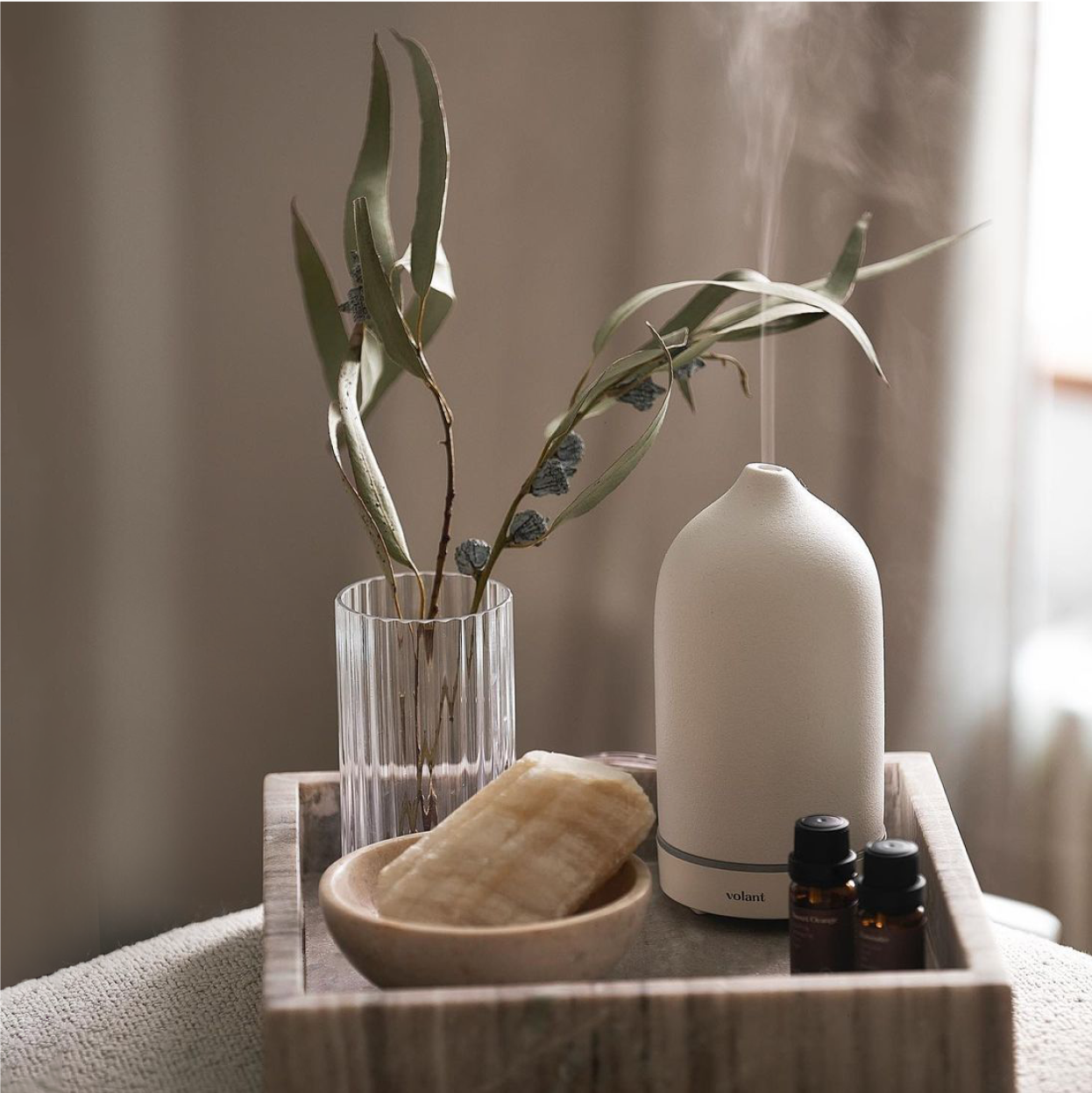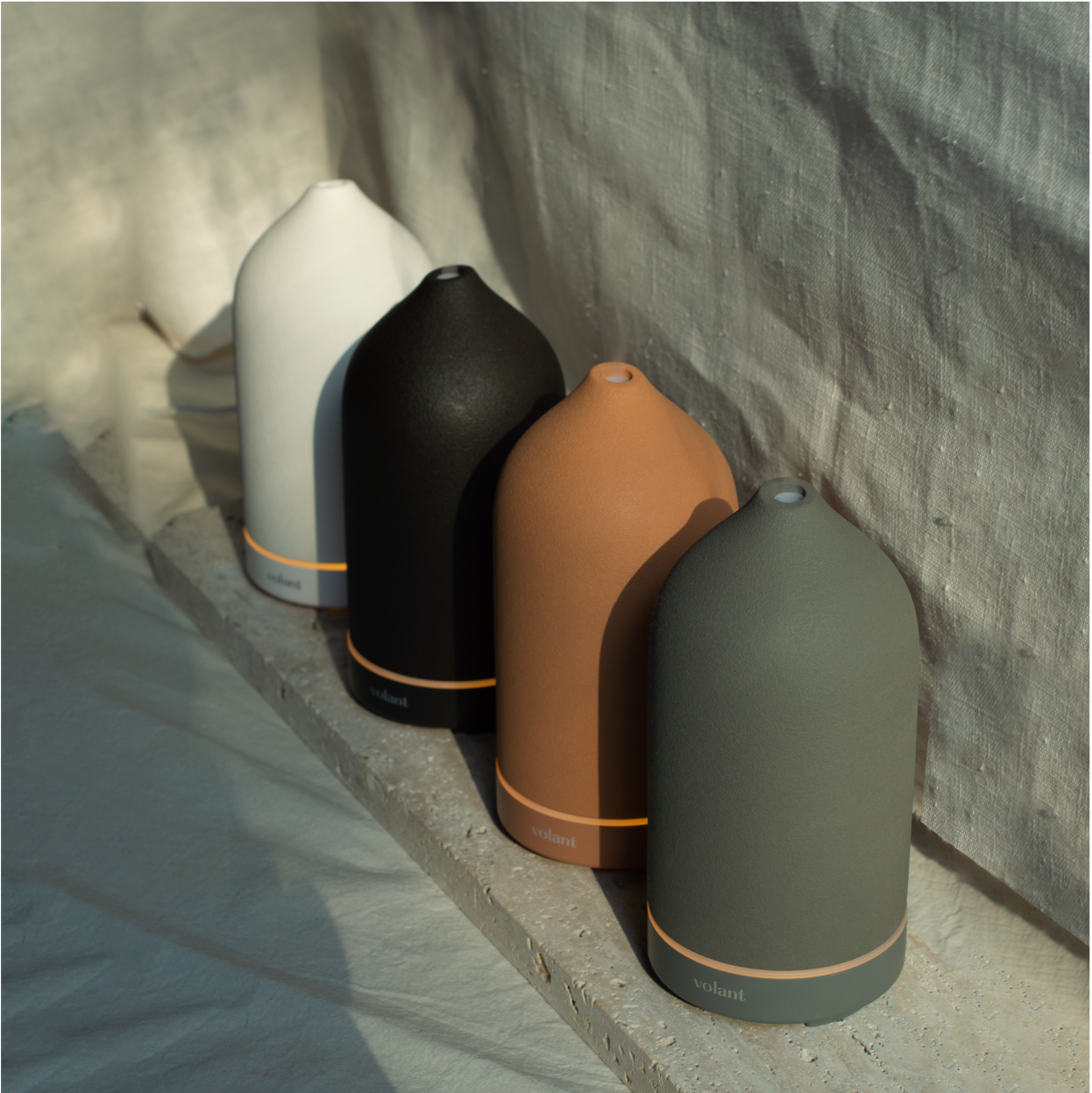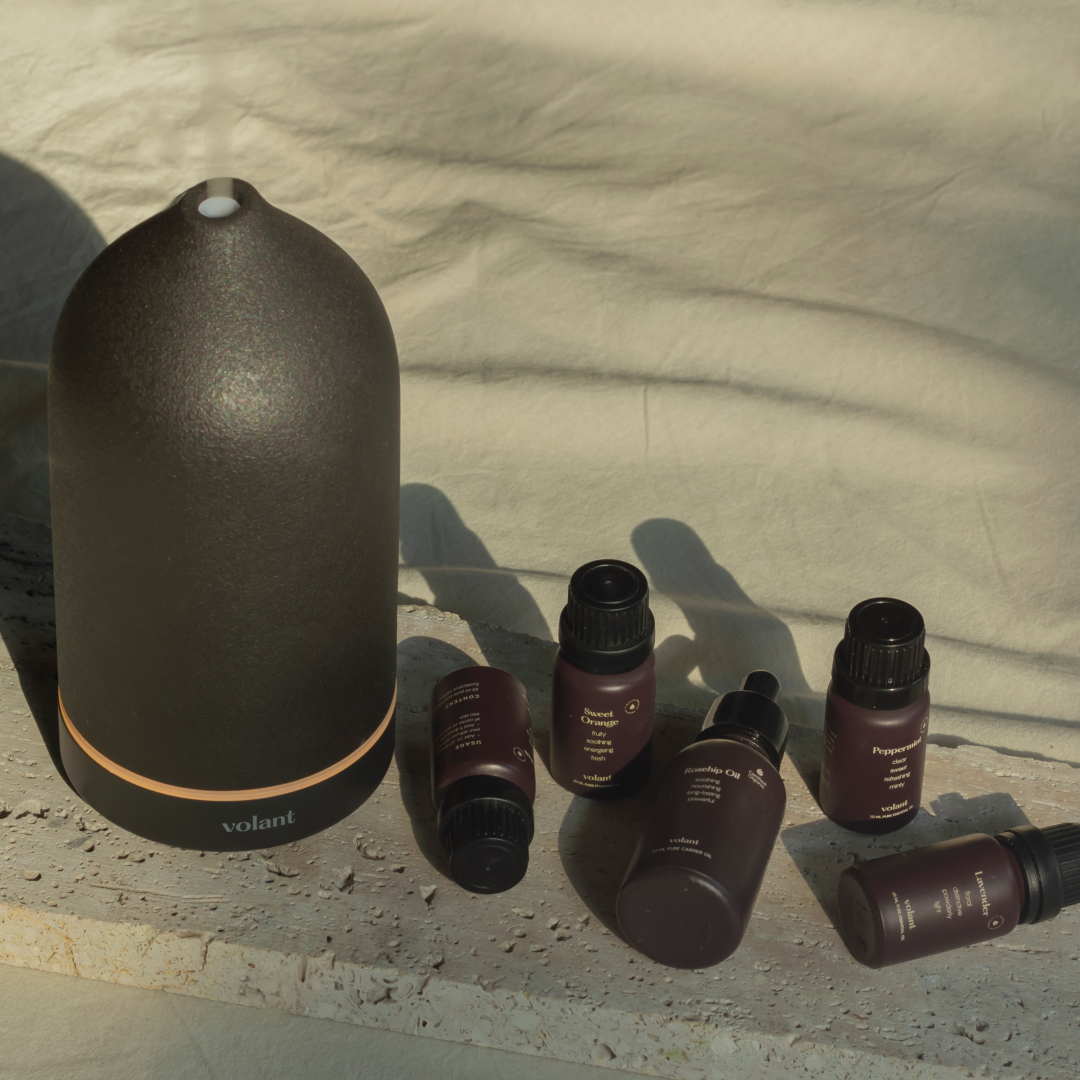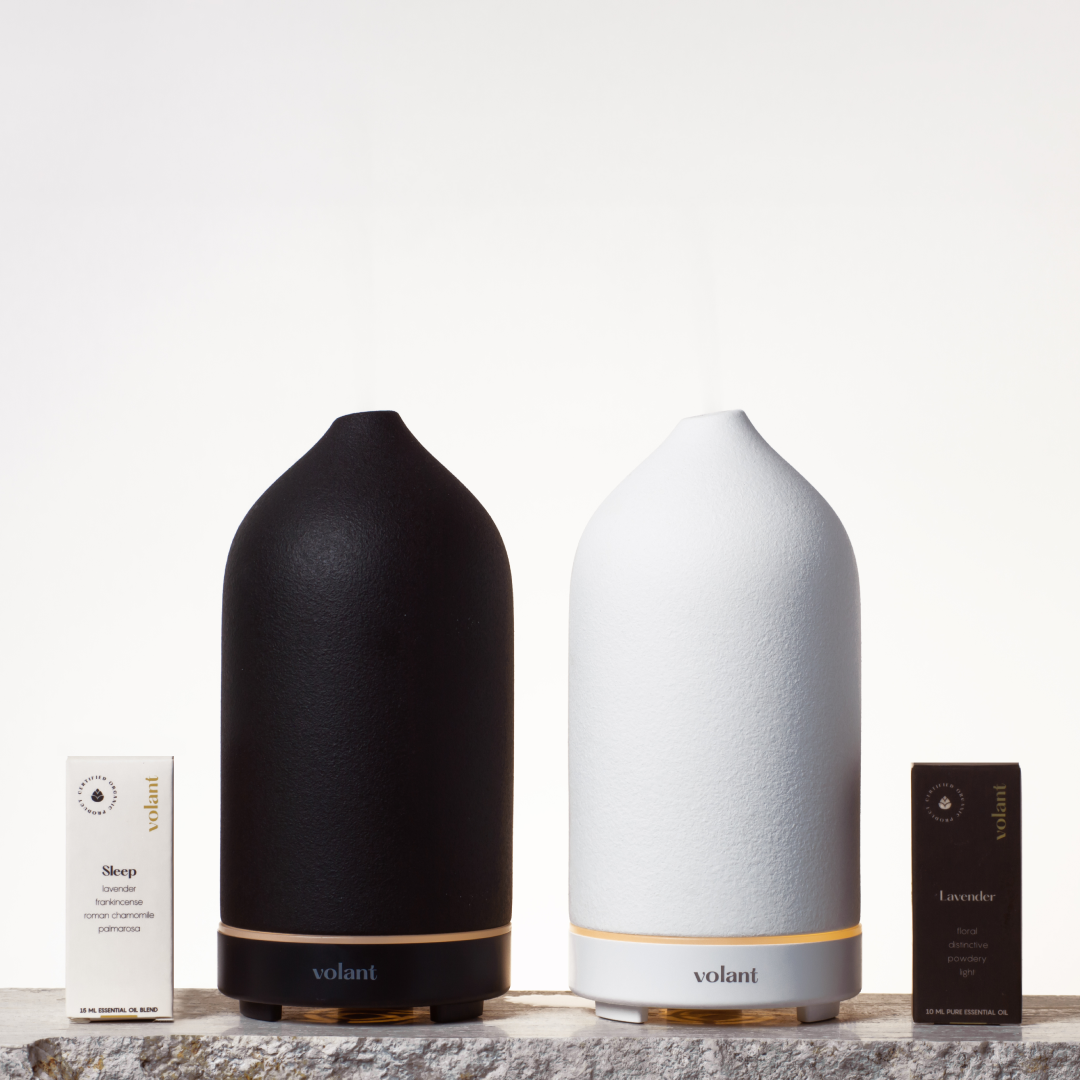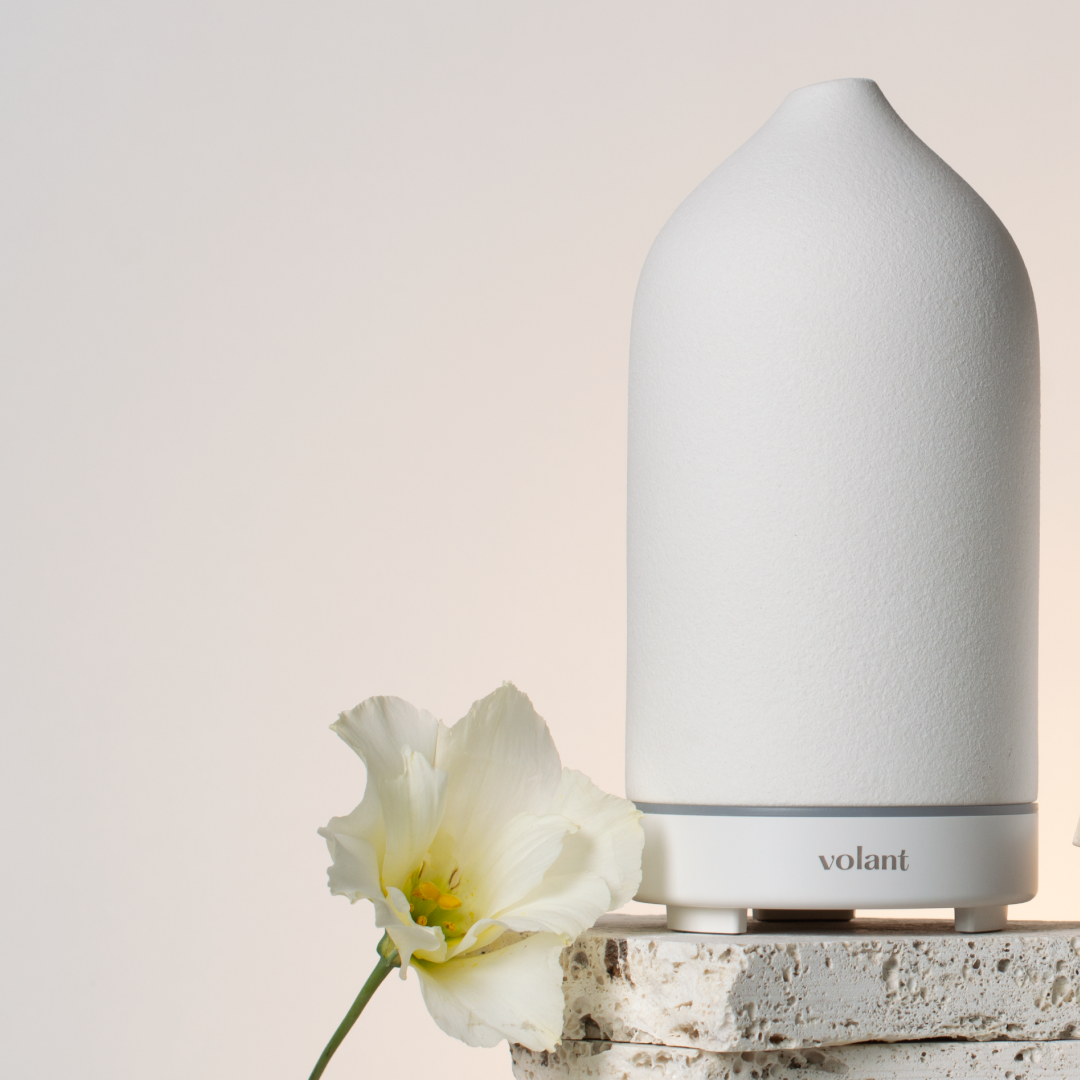 An Experience for Your Senses
Hygge is Scandinavian and describes the cozy, enjoyable moments in life. For example laying on the couch with your loved one in your arms on a rainy day. And that is exactly the feeling you get from the aromatic scents of our stone diffusers. A feeling of home, peace and relaxation - in your own, scented oasis of well-being.
Diffuse essential oils to find calm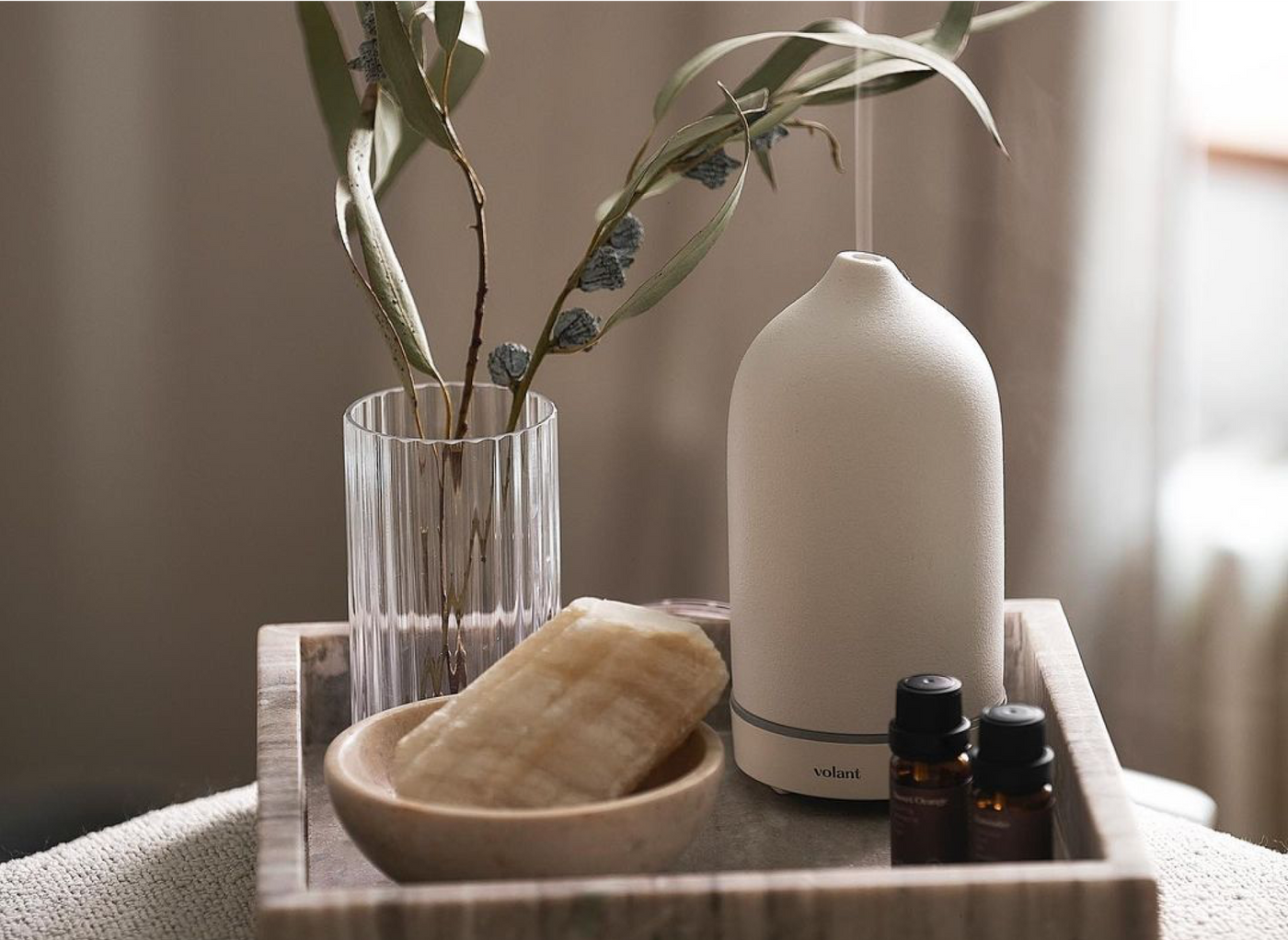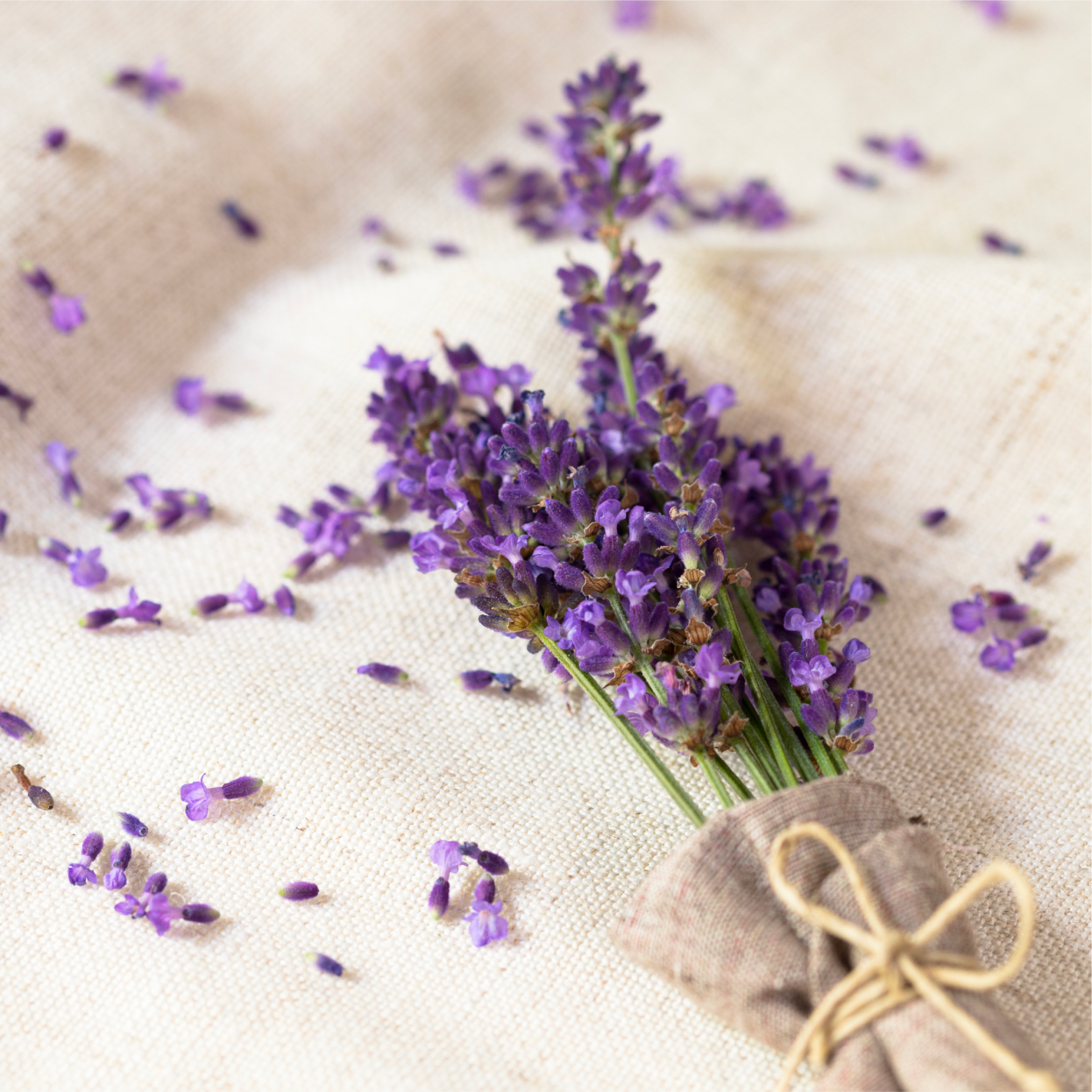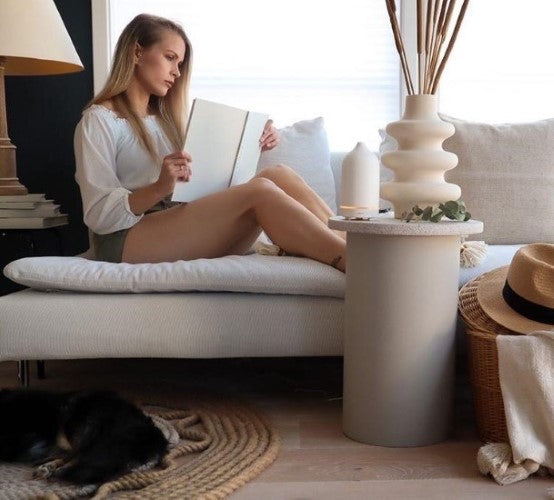 Diffuse essential oils to find calm
Create the quiet atmosphere of a flower garden. Get a pause from everyday stress and make space for rest.

"The diffuser has a very calming effect on me. The light and the scents are pure relaxations and are reducing my stress levels. It's already part of my life, it gives me space and me time."

- Michaela Becker
Evening routines that work
Soothing scents can greatly improve the quality of your sleep. Diffuse your favourite scent every night to get the 7-8 hours of quality sleep you need. 

"The diffuser is on every night. It gives a comforting scent in the bedroom and helps me sleep like a baby! I wake up ready to conquer the world."
- Nafisa Jafri
Spark your creativity
Go into your productive bubble and forget about the world around you. Time flies, and you create something beautiful.

"I often start my days inside the workshop, eat breakfast and think of new ideas. I always have my volant on the desk filled with fresh scents, and it helps me increase creativity."
- Soraya Forsberg
Increase your wellness
Essential oils help your body and muscles relax. Experience the power of nature and how it makes the tensions leave your body.

"The diffuser helps me reduce tensions in my body, and it makes me calm. The oils are powerful and smell so nice. I'm obsessed with it!"
- Carola Kristiansen
Boost your day
Some of our scents are designed to make you energised, stimulate your senses and keep you going and going.

"I look forward to getting up in the morning and start the day with a cup of coffee and a nice smelling home. Hands down the best way to start the day. I've used it every day since I got it."
- Vilde Paulsen
volant aroma diffusers are
Handmade
Our premium diffusers are handmade, so every piece has its unique characteristics. They are crafted with 5 mm wall thickness and painted with sustainable and resistant colour. The stone cover is made of high-quality porcelain that is long-lasting and beautifully matt.
Scandinavian
Our aroma diffuser is inspired by minimalist Scandinavian design. It was designed in Norway and celebrates the regions natural forms and materials. We have created a modern yet beautiful product that enhances every space.
Powerful
Our award-winning diffuser has a small plate inside that creates a cool, refreshing water mist when vibrating, just like the steam around a waterfall. This vibration breaks the added essential oils into microscopic particles and spreads the mist into the air, making it easy to freshen up your home.
AN OASIS FOR YOUR HOME
Our aroma diffuser is a practical and elegant way to take advantage of the countless benefits of essential oils. The 100% natural scents help you relax after a long day or bring new energy and freshness to your home. If you need more rest, sleep, energy or focus, our diffuser and essential oil blends are guaranteed to help you with that. We have the perfect scent for any mood.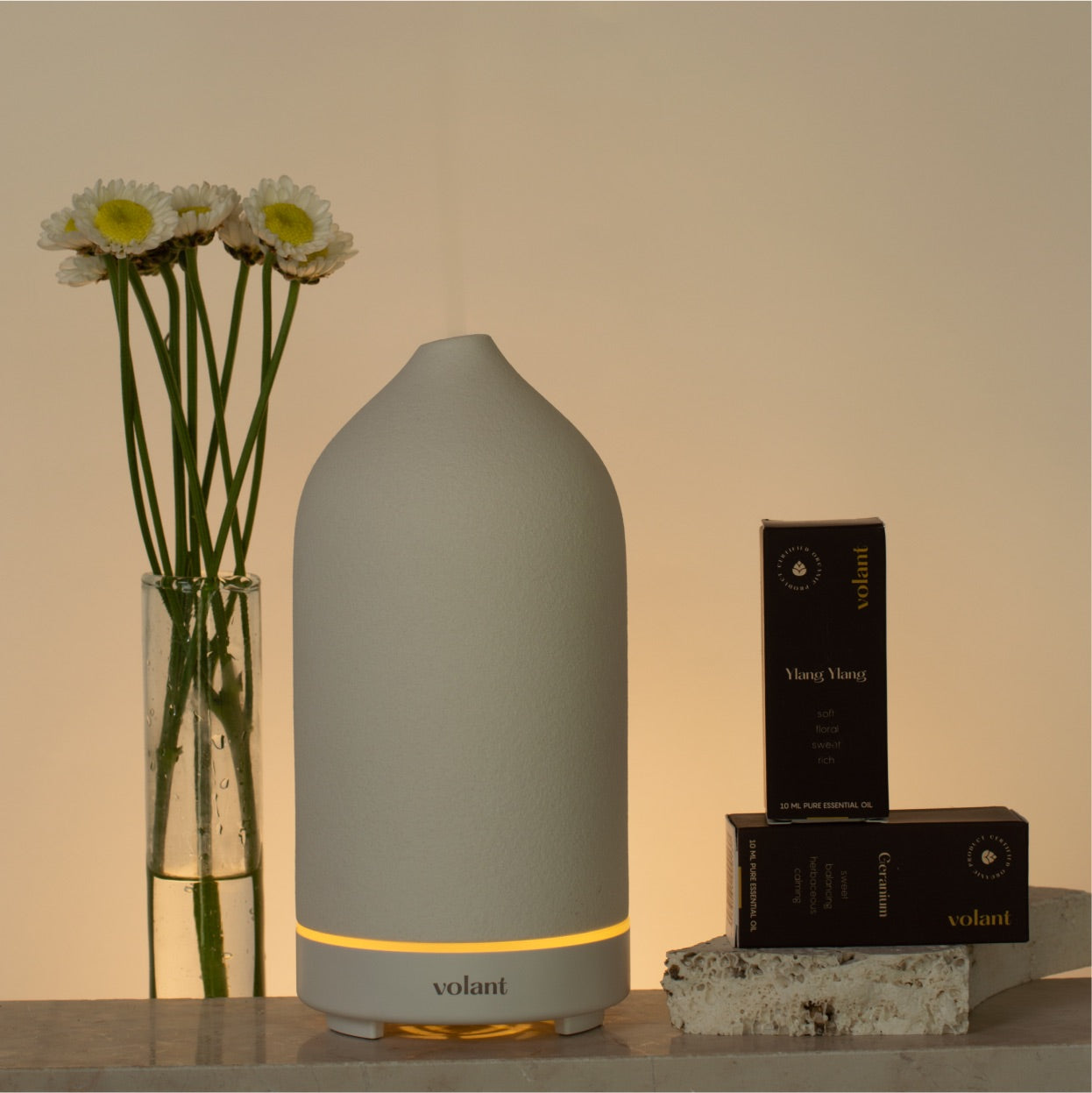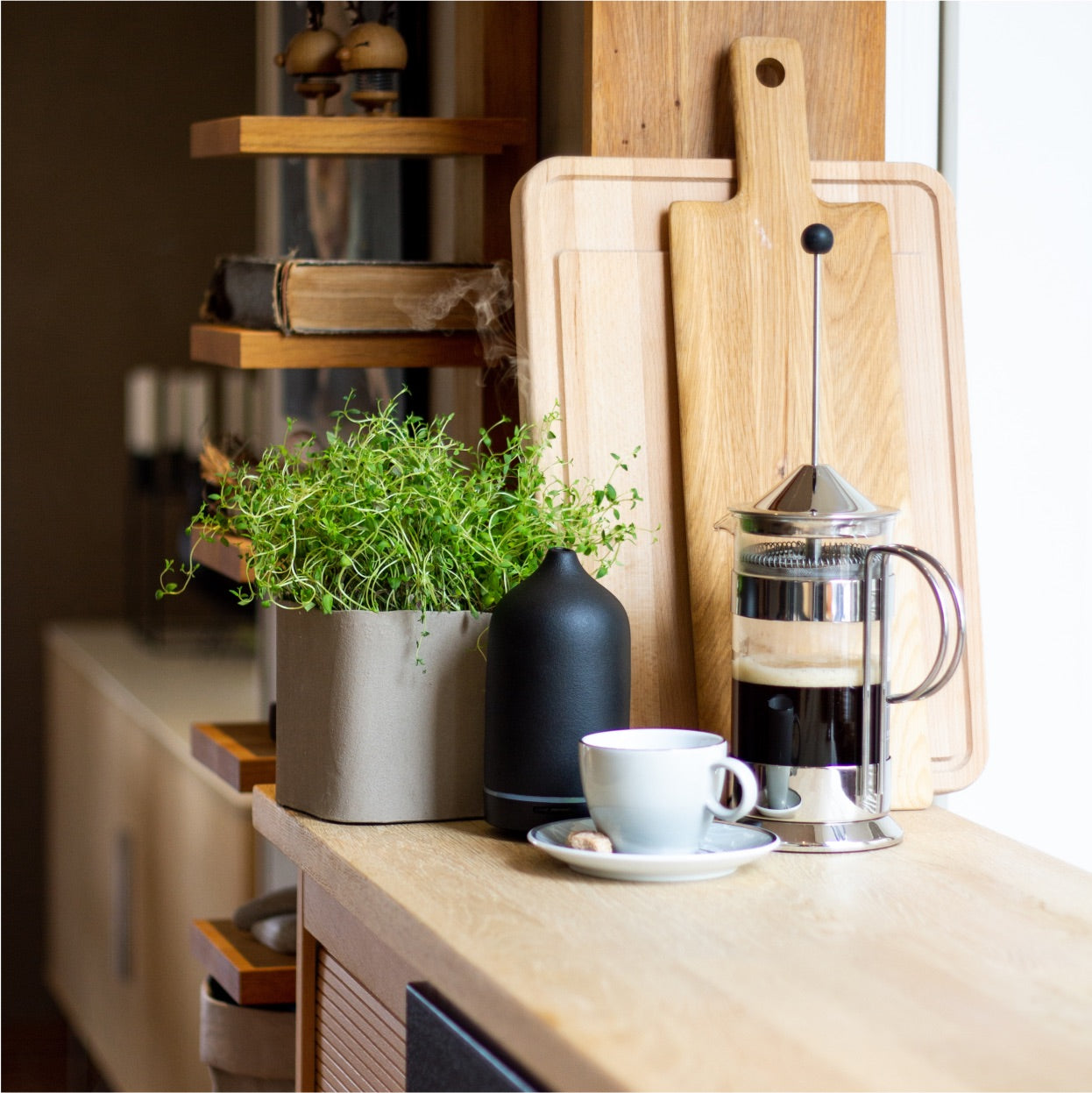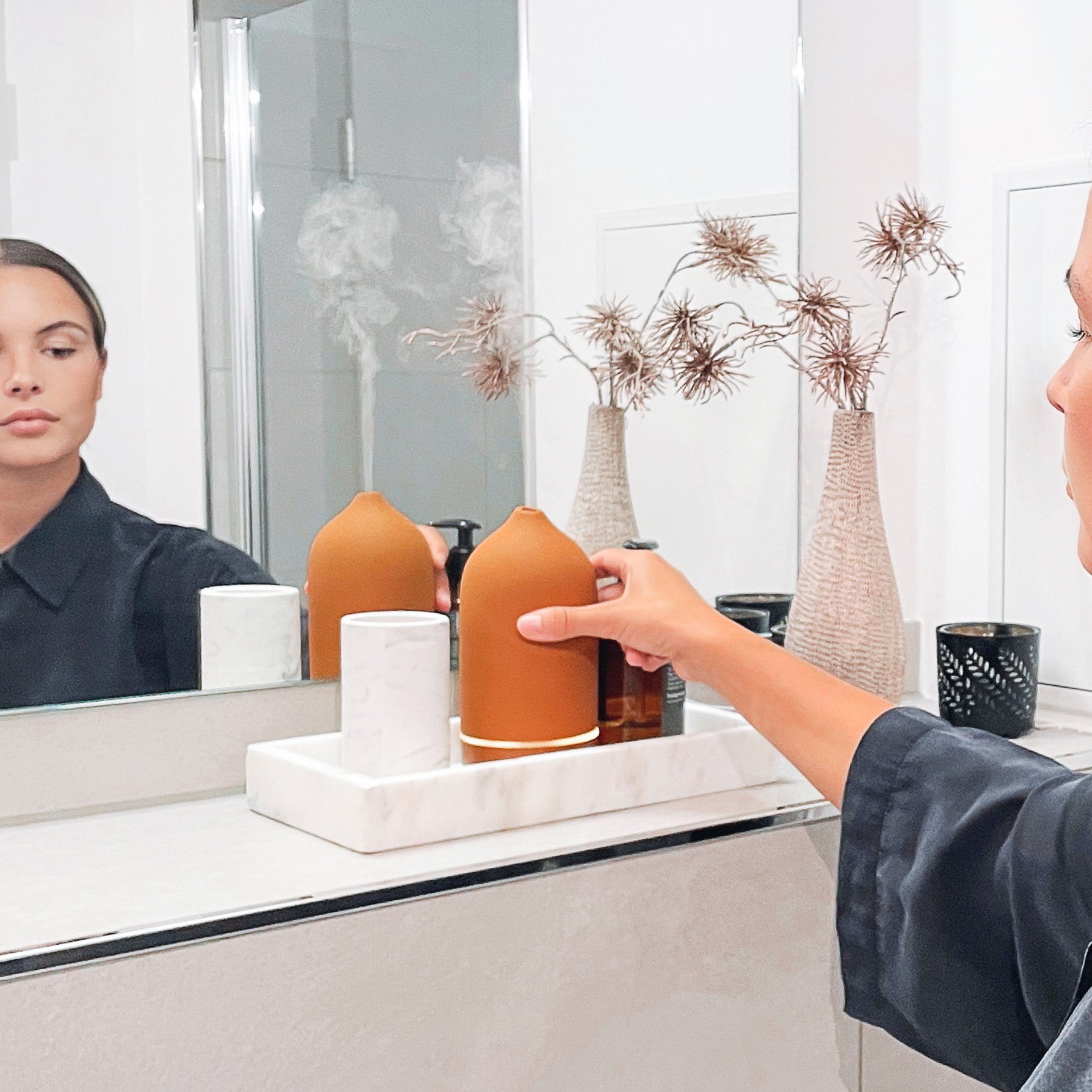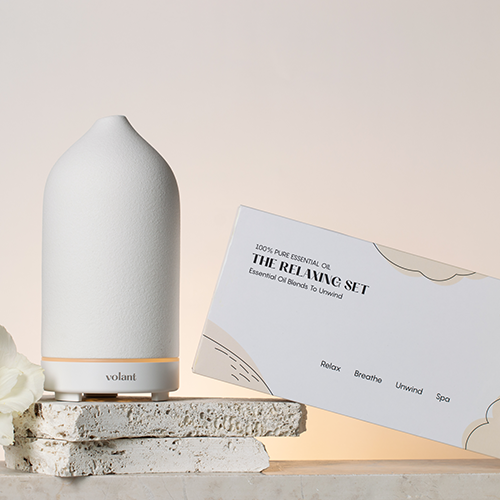 Scenting 100,000+ happy homes
Satisfaction Guarantee
We are confident that you'll love the Volant Diffuser. Try it for 90 days in your home, and in the unlikely event that you want to return it, we offer a free return and a full refund - no questions asked.